History of the BEST CE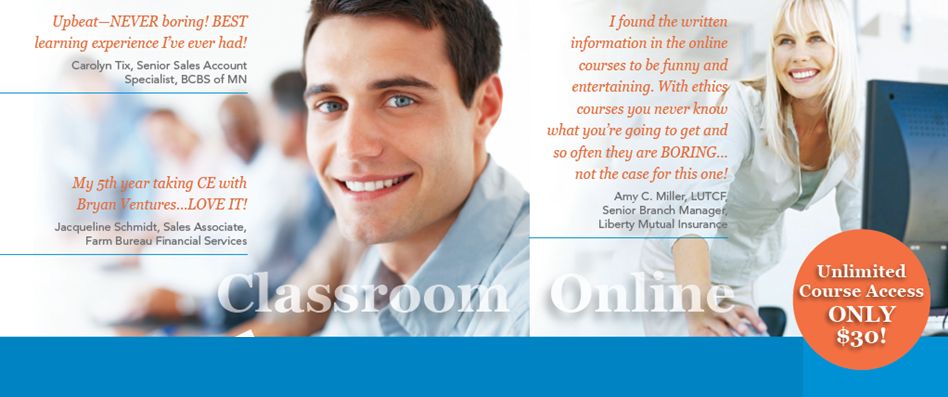 The history of the BEST CE offered by Bryan Ventures will help you understand why insurance agents believe we offer the BEST INSURANCE CE. Beginning in 1986 and spanning over thirteen years, I worked as a sales representative for various insurance companies and investment firms. Through this experience, I helped develop business and additional sales for literally thousands of different insurance and investment professionals across the country.
This vast experience brought me in contact with insurance professionals of all kinds and gave me a unique perspective of understanding what insurance agents need. I also had the benefit of accumulating unique product and tax applications from some of the best insurance and investment professionals in this business. As you'd imagine, these ideas and concepts are included in our continuing education coursework and offer proven strategies designed to add value to your business and personal finances.
Our story doesn't stop there—if it did, I would be using these ideas as a highly accomplished sales rep helping a multi-billion dollar insurance company make more money, but instead I decided to take those ideas and create a business offering a better educational value to insurance agents.
Being insurance licensed for over 25 years, I've taken hundreds of hours of insurance continuing education—some good, some bad. Honestly, what stands out the most is the bad. I often joke that I drafted the business plan for Bryan Ventures while sitting in a very BAD class, but it's really not a joke—it is the absolute, honest truth. As the instructor droned on about material no one in class seemed interested in, I knew I could create better class materials, but even more important, present it in a way that kept people interested.
In that moment, I decided to offer insurance CE classes that give agents the things I personally found important in a good class:
Information of value to your business
Involvement in your learning experience
Entertaining and engaging presentations
Interesting topics with relevant examples
You'll also find that every course we offer, whether in classroom or online, has three basic objectives:
You'll get your continuing education and that's usually what brings you to Bryan Ventures in the first place.
Our classes offer valuable ideas you can incorporate into your business so you can make more money or into your personal finances so you can have more money. Either way, our goal is to help you gain more personal wealth.
Our classes are designed to be fun. The more involved you get in the class, the faster the time will go and the more you will get out of it. Even our online courses are written as we would normally instruct them including thought provoking questions and humorous anecdotes.
I am confident if you purchase your insurance continuing education from Bryan Ventures, you'll find we offer the things you've been looking for and will keep coming back. We have a long standing history of the BEST CE with much repeat business and many referrals. I suggest you give our motto a chance:
REGISTER NOW and find out why other agents say, "This is the BEST CE!"