"The BEST CE: Classes in the Tropics"
Bryan Ventures is considering offering live insurance CE in Mazatlán. We want your opinion. Take the SURVEY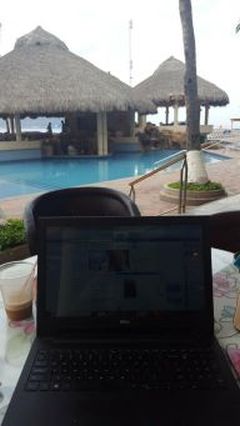 For years, Bryan Ventures has offered our BEST CE classes at fabulous resort locations throughout Minnesota and Wisconsin–Alexandria, Bemidji, Brainerd, Detroit Lakes, Duluth, and La Crosse top our agents' favorites list. During the summer, and even the fall and winter months, many insurance professionals have enjoyed the sights, attractions, and activities in these areas while getting their insurance continuing education. Some even bring their families to enjoy the pool, lake, or golf course too. We have created so many cherished memories combined with work that it's been a true blessing.
Bryan Ventures is now considering hosting live classroom insurance CE at The Palms Resort in Mazatlán the winter of 2019. The picture to the left was taken as our primary instructor, Renee Bryan, worked on the patio. The resort is just north of the Golden Zone–just a few minutes walk down the beach or street to many restaurants and shops. An Uber ride or taxi to the historic area is just a few dollars, and the patio, pool, and beach here are just wonderful. Top it off with they have a banquet area right here at The Palms where we could host our insurance CE classes. In fact, right now, the staff here is working up the pricing if Bryan Ventures were to offer classes here early in 2019.
The next step is to find out if you are interested in joining us here for insurance CE classes. We've prepped a SURVEY so you can offer your input. I figure we can host classes here if we get at least 10 agents to commit, but if we were to get more, we'd have a real fiesta (party in Spanish :D).
WANT TO SHARE YOUR THOUGHTS?
Take this two-minute SURVEY.
Register NOW and find out why other agents say, "It's the BEST CE!"
Bryan Ventures offers special live classroom CE promotions to highlight upcoming locations, unique benefits of our classes, or special reduced pricing. Our goal is to provide licensed agents with special live classroom CE promotions that create a greater education value. We no longer advertise via regular mail, but instead share our special insurance CE offers through email to licensed agents. In addition to special live classroom CE promotions, these routine emails include important insurance industry updates. To ensure you receive the most current information, we recommend you add your email address to our distribution list: ADD MY EMAIL
We also host three other pages where we publish any special insurance CE offers and valuable industry updates. We encourage you to review the special insurance CE offers available for our different product categories and see if we have something that interests you: