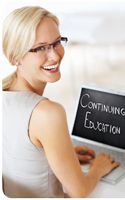 This is not Dwight K. Walker, but a model used for illustration purposes.
I purchased 24 hours insurance continuing education credit from Bryan Ventures just prior to the change to the NEW website and learning center. When I sent in an email on a Friday afternoon with a few questions, the staff at Bryan Ventures called to assist me in getting setup with the correct course. The customer service representative even waited on the line while I accessed the course to make sure I was all set. When I decided to take the exam on Saturday, the staff was there to assist me even during weekend hours.
The service is simply awesome! Plus, the new layout for Bryan Ventures is great. The material is wonderful too. I finished the course with some extra time to review, and received 94% correct on my first attempt. This was definitely one of the BEST learning experiences. Thank you for the great course and the awesome service. I'll be back and I highly recommend other agents use Bryan Ventures for their insurance CE!
Dwight K. Walker, EFS Advisors, Bemidji