Go to our website: https://bryanventures.com
Welcome to the BEST blog: A place for Renee E. Bryan to Spout-Off
"Who reads all this CR*P anyway?"
If you have something to share, you can email Renee at reneeb@bryanventures.com, or post it right on our Facebook page. Please be advised: Any references you choose to make to this blog are open game for future posts. (Who am I kidding? ANYTHING is game for future posts.) Thank you!
Renee E. Bryan also publishes writing at her blog: WrongWayLizzie.Me.
For years, Bryan Ventures has offered our BEST CE classes at fabulous resort locations throughout Minnesota and Wisconsin--Alexandria, Bemidji, Brainerd, Detroit Lakes, Duluth, and La Crosse top my personal favorites list. During the summer, and even the fall and winter months, many agents have enjoyed the sights, attractions, and activities in these areas while getting their insurance continuing education. Some even bring their families to enjoy the pool, lake, or golf course too. I've been blessed to be able to work from these wonderful locations and been to bring my family. We created so many cherished memories combined with work.

Almost two years ago, Bryan Ventures was considering offering destination continuing education classes outside Minnesota and Wisconsin. The thought was to host CE on a cruise and in concept, it sounded wonderful, but this was difficult to organize with the ship's schedule. We only wanted to have class in the morning allowing for the remainder of the day to enjoy all the ship and ports had to offer. The problem is, depending on the cruise, one could be at sea an entire day and then at port in the morning. No matter which cruise we looked at, the schedule did not meet our needs.

Then we thought, "What about a resort in the U.S.?" This was challenging too. We needed to find something affordable that would attract enough agents. Depending on travel budgets, preferences varied as to location. Top it off with the decision of a summer classes to a northern resort destination or winter travel CE to the warmer climates. All of these various options had us running in circles so the idea was simply dropped until I decided to spend an extra week in Mazatlán, Mexico.
You see, I've been traveling to Mazatlán for the last three years doing mission work for YWAM (Youth With A Mission) and Homes of Hope building houses in the local Colonias. With the extra week in Mexico, I would work, write and volunteer at the YWAM base. The picture above and to the right were taken while working on the patio of The Palms Resort.
It's been fabulous working from here. The resort is just north of the Golden Zone--just a few minutes walk down the beach or street to many restaurants and shops. An Uber ride or taxi to the historic area is just a few dollars, and the patio, pool, and beach here are just wonderful. Top it off with they have a banquet area right here at The Palms where we could host classes. In fact, right now, the staff here is working up the pricing if Bryan Ventures were to offer classes here the winter of 2019.
The next step is to find out if you are interested in joining me here for insurance CE classes. We've prepped a SURVEY so you can offer your input or certainly feel free to email our staff. I figure we can host classes here if we get at least 10 agents to commit, but if we were to get more, we'd have a real fiesta (party in Spanish :D).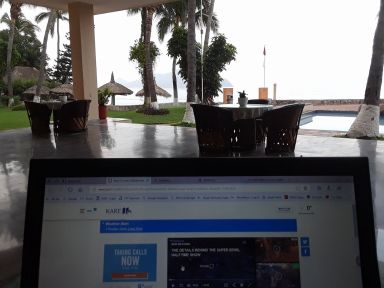 WANT TO SHARE YOUR IDEAS?
Email Renee; or post on our Facebook page.
Comments are based on the personal experiences or opinions of Renee and may not reflect the objective of Bryan Ventures, Inc.