BEST Insurance CE: Wall of Fame
Offering the BEST Insurance CE co
urses comes easy when you know what agents want and need from their continuing education classes. Our goal has always been to offer better classes than other CE providers. The History of Bryan Ventures tells you a little more about the type of classes we strive to provide the insurance agents who register our courses. We offer insurance CE classes that give agents better information, but are also engaging and entertaining. Even our online insurance CE classes are written as we instruct them with agent comments and relevant examples. We knew we had created better classes when agents repeatedly told us, "This is the BEST Insurance CE!" Our Wall of Fame (below) contains so many glowing comments and repeated use of the word BEST, you can just read a few to know that there is something special that sets us apart from our competition. 
Once we put together the BEST insurance CE classes in the easiest format with the BEST service, we offered the BEST price out there. You can get all of your insurance continuing education for just $30. That's right, we offer 30 DAYS UNLIMITED ACCESS to our online course library for ONLY $30. You can complete your insurance CE with this for this renewal and even the next for the BEST price of just $30. We also recommend you try one of our LIVE CLASSROOM INSURANCE CE. We truly do put together the BEST engaging and entertaining material–and now, we offer insurance continuing education in the tropics so join us at out DESTINATION CE locations.
REGISTER TODAY and find out for yourself why other agents say,
"This is the BEST Continuing Education (CE)!"
In addition to the comments from agents available in the sliders below, you can also review handwritten testimonials from insurance professionals just like you by clicking any of the links below:
These Webinars are Fun & Easy! by Bev Schwagrl, CPCU, AIM
Offering the BEST Live Insurance CE! by Andrew Nolting
Destination CE is the BEST way to go! by James Wedo
Bryan Ventures Really is the BEST CE! by Jackie Frazee
My retirement is better because of Bryan Ventures! by John Bassett
Online CE that is LOL funny! by Ken Kloubec
Still the BEST CE! by Mark Gazelka
Agents say, It's the BEST CE! by Dwight K. Walker
Quite Simply the BEST CE! by Rodney Hansen
CE Classes Packed with the BEST Information! by Bob Beseman
The BEST CE and the BEST Service by Robert Schewendemann
Of All the CE Options, Bryan Ventures is the BEST! by W. Floyd Brennan
The BEST CE without Exception! by William Hellerstedt
Bryan Ventures offers the BEST value! by Jonathan Otterbacher
Fun and Insurance CE Can Go Together! by Lynn Erickson
Better Than Kaplan Insurance CE – Our Instructor Gets Flowers
Better Than WebCE by Mark Berglund, MBA
---
Register NOW and find out why agents say, "This is the BEST CE!"

Todd Strem, Owner/Agent
Todd Strem Agency
This is the first insurance CE class that I was not sleepy. Thanks for keeping it interesting! Not only did I enjoy these continuing education courses, but I learned very useful information for both my business and personal finances.

Charlie Brecht, Field Representative
Catholic Aid Association
Insurance continuing education that is fast moving and entertaining. Quality presentation, visuals, and handouts. GREAT value for CE credit hours!

Judith von Mosch, Financial Advisor
Waddell & Reed
Interesting insurance CE topics and energetic instructor! Love the live classroom schedule with lunch at the meeting.

Amy C. Miller, LUTCF, Senior Branch Manager
Liberty Mutual Insurance
The sample questions in Bryan Ventures' online CE classes were well-written and easy to understand--too often folks write it to deliberately try to trip you up. Not the case here! This was an effective review and excellent learning tool.

Jonathan Otterbacher
Licensed Agent
It was super easy! I completed all my insurance CE in just two days for only $30.00! Bryan Ventures offers a value for insurance CE that cannot be beat! I highly recommend them.

Jonathan Otterbacher
Licensed Agent
Great insurance CE courses!
A ton of really good information packed into these courses and all very valuable. Better yet, I really enjoyed the writing style in all the courses.  Very conversational which makes it engaging. It is not your typical boring online lesson material. Plus the service was awesome. I had a question after 5 p.m. on a weekday and received a near instantaneous response.

Amy C. Miller, LUTCF, Senior Branch Manager
Liberty Mutual Insurance
I found the written information in the online insurance continuing education courses to be funny and entertaining. The "gold star for finishing early" comment made me laugh out loud.

LaRita Velure
C&L Consulting
I always enjoy the insurance continuing education classes at Bryan Ventures! The information helps me professionally as well as personally, and the service is excellent. I especially appreciate how quickly the credits are reported to Sircon.

Ken Kloubec, Owner-Agent
Insurance Partners Inc.
Excellent! I very much like the ease of online insurance CE and the variety of classes you offer. A very positive learning experience at an extremely competitive price!

Kenneth Henrikson, President
Ken Henrikson Insurance Company
Excellent information--informal, but professional. An insurance CE presentation with personality!

Selina Moen, Supervisor
Jackson County Bank
Every insurance CE class was very informative. Greatly enjoyed our instructor. She made it fun and interesting. Excellent....Thanks!

Darlene Dinse
State Farm Insurance
So many online CE classes are boring--it's just the facts. I like the personal comments and examples in Bryan Ventures' online insurance CE courses. It is like going to the classroom CE courses without the hassle of driving!

Daryl H. Koch, CLU, ChFC
Daken Financial Services
Having years of experience in various facets of this business, I have an accomplished understanding of many financial areas, yet I almost always learn something new in Bryan Ventures insurance CE classes.

Dale M. Schumacher, MBA, CEBS, RPA, Director
Baker Tilly Capital, LLC
The 30 days UNLIMITED ACCESS for just $30 is GREAT!

Tom Wheeler, President
Wheeler Associates
New, practical ideas–BEST CE I've ever had!

Mark Clennon, President
Freedom Financial
Ethics Insurance CE that is FINALLY interesting! Great job.

Wanavichet Yang
Independent Insurance Agent
Phenomenal insurance continuing education with outstanding information. Bryan Ventures offers the BEST CE!

David J. Guyot
Affordable Benefit Solutions
Straight forward--no tricky questions. I've taken insurance CE courses with one of your deep-pocket competitors (not much fun), and I'm sticking with Bryan Ventures from now on!

Kelly Brannick, Customer Service Agent
C.O. Brown Agency
Thank you for the prompt reporting of my insurance CE credits. My license renews today and I finished my last 4 CE credits last night. At 7:00 a.m. the next morning, it was already reported to Sircon that I was compliant. I will highly recommend Bryan Ventures to all of my colleagues!

David J. Guyot
Affordable Benefit Solutions
Straight forward--no tricky questions. I've taken insurance CE courses with one of your deep-pocket competitors (not much fun), and I'm sticking with Bryan Ventures from now on!

Daryl H. Koch, CLU, ChFC
Daken Financial Services
These online courses are the BEST! I have used other insurance CE providers in the past and their material cannot hold a candle to yours.

Kenneth R. Kloubec
Insurance Partners, Inc.
Very great online class--informative with instant feedback. These insurance CE courses are near perfect and I would most definitely recommend them to other agents.

Diane Lener
Independent Agent
Thank you! Thank you! Thank you! Excellent service and insurance CE courses.

Marlene Stauber, Financial Analyst
Primerica
This insurance CE was great! In twelve years, I've never been treated so well.

Anonymous
Much better than other insurance CE providers! I will be registering again and suggesting your company to other agents.

Paul Enter, Advisor
Wells Fargo
Thank you for making insurance CE fun!

Marlys Houk
Independent Agent
The online insurance CE classes worked very well for me! I enjoyed the humor showing through--it kept my attention. The information was very insightful and I learned a lot.

Mark Gazelka
State Farm Insurance
Kept things lively, interesting, fun, and informative--challenges in any insurance CE presentation!

Brian Haluptzok
Primerica
I loved the group discussion in ethics! I was even willing to skip the breaks and work into lunch—and so did many of the other participants. Truly excellent and the BEST insurance CE class I've ever attended!

Chris Toring, Vice President Marketing
RE Financial
Light, jovial presentation and exquisite control of the group by the presenter.

Anonymous
Kept things interesting with a lot of student interaction.

Mark Steele
Insurance Consultant
These insurance CE courses are the BEST! The information is fresh and the presentation interesting.

Merry Ofstad
US Bank
I give Bryan Ventures insurance classes FIVE STARS! They cannot be matched by any other CE provider--simply the BEST.

Greg Kaslow
First Service Insurance Agency
Hands down the BEST insurance CE classes around!

Clifford Hanson
Accord Benefit Resources, Inc.
Bryan Ventures $30 ALL YOU CAN EAT is great! Kaplan has a nice offer, but yours is a real bargain. Once agents get to know your company and the ease of your online courses, it's a hands down lock as to where their insurance CE dollars will go.
---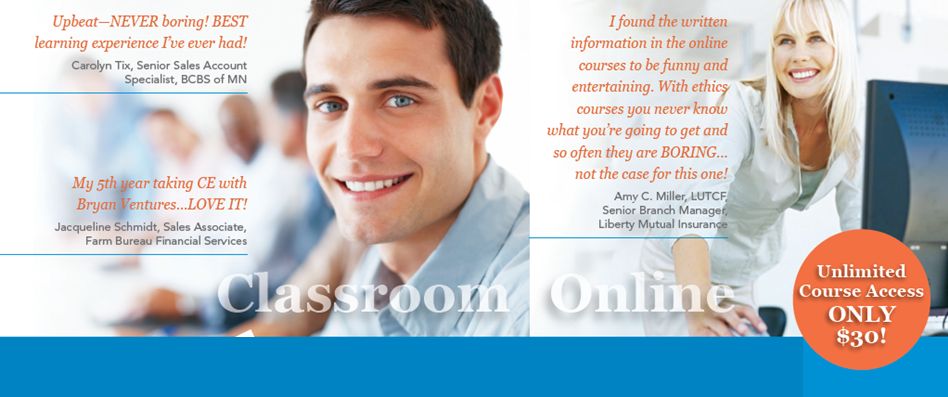 ---
Register NOW and find out why agents say, "This is the BEST CE!"

Cindy Ricke, Office ProfessionalThrivent Financial
Enjoyable as always! You do such a wonderful job that I do not dread coming to your classes--I actually have a great time. You are a great presenter!

Myron KatzenmeyerKatzenmeyer Insurance Agency
As a P&C agent, topics available in Bryan Ventures' online insurance CE courses seemed like foreign territory, but the material was very well presented and the experience was very good. I would definitely use these courses again.

Celia Schwab, Associate Financial RepresentativeNorthwestern Mutual Financial Network
I really enjoy your live classrooms insurance continuing education much more because of the interaction that takes place, but having all true/false questions made the online CE courses very easy.

Sara VanNieuwenhuizenKozlowski Insurance Agency & Financial Services, Inc.
I have always enjoyed your insurance CE classes and the online continuing education material offers the same engaging material. You do a great presentation in classroom or online! I also like how I get my certificate immediately after any CE class.

Rod Hansen, PresidentMinnesota Insurance Services LLC
I prefer classroom insurance CE, but thank you for having the online courses available. Your help and concern was wonderful!

Harris HaugenSecurity Insurance Agency
I am really enjoying your online insurance CE courses. I am actually learning valuable information and it's nice to not have to drive to get the credits I need!

Regina A. Johnson, Licensing Staff State Farm Insurance
This was the MOST interesting insurance CE class I've EVER taken! I look forward to attending next year.

Richard ClarkIndependent Insurance Agent
This is the first time I had taken an online insurance CE course and chose Bryan Ventures on a referral. I am glad I did! These courses are very user friendly and contain a lot of great information.

Paul KotnourIndependent Agent
A lot of relevant information presented in an effective way. Easy to follow with additional resources.

James WalkerOld Northwest Company
Bryan Ventures is the BEST insurance CE! No other CE provider can match the content and engaging presentation.

Roger R AndersonInsurance Services
I have been going to Bryan Ventures insurance continuing education for years now and you are by far the BEST. This year I brought along two work associates, one normally sleeps through class. To my surprise he was wide awake during the presentations and even took part in the discussions. The other has been in the business for forty years and states yours was by far the BEST!

Fred Jensen, Financial Advisor Edward Jones

Randy Michaelis Independent Consultant
I don't know how you got my name, but I am happy you contacted me. I've attended Kaplan before and Bryan Ventures is much better!

Gloria Doom Farm Bureau
Time after time, Bryan Ventures makes insurance CE classes both educational and entertaining! Renee Bryan is the queen of CE training--Bryan Ventures is the only company I would even consider. A+!

Mark Clennon, PresidentFreedom Financial
I actually felt like participating in the discussion--keep up the good work in your style of insurance CE! Will recommend to fellow agents to attend Bryan Ventures classes ONLY.

Kelly Pierson, Office Manager Freedom Financial
Light and entertaining, but very informational. You are a walking bucket of knowledge and keep being a great education resource for insurance agents!

Annette Glidden RMS of Bemidji
Interesting, engaging and informative! In 30 years, I've attended many boring insurance CE classes. Bryan Ventures is NEVER boring...NEVER!

Darlene A. Schaefer, FLMI , Princor Registered RepresentativeIncentive Compensation Alternatives, LLC
I like the format of the online insurance CE classes and the interactive review questions are very helpful. I could picture Renee as I read the material and it brought the information to life!

Rick RockwoodRockwood Insurance
I would rate this insurance CE experience as excellent. Special thanks for all the weekend assistance!

Nancy A. MinkkinenWells Fargo
I would rate your online insurance CE classes as excellent! I can always find one that I learn something new and topics of interest to me. I highly recommend your classes.

Margaret SchaghRetired Insurance Agent
Bryan Ventures insurance CE classes have been the most informative and entertaining of any I have attended. You bring so much flavor, energy and wisdom to each and every class. Online insurance CE might be easier to fit into a busy schedule, however, I have learned that taking time away from the computer and doing the live classroom learning enriches your spirit.

Carol Hansen, State Office Staff AFLAC
Thanks for putting on the BEST CE class that I have sat through in my 21 years of being in the insurance field. OUTSTANDING JOB!

Beth Lanoune, Licensed Representative State Farm Insurance
The BEST CE courses I've ever attended!

Barbara J. Wright-Quarton, Investment Representative Home Federal Bank
Unique stories that bring the statistics and history to life–great attention grabbers. EXCELLENT!

Carolyn Tix, Senior Sales Account SpecialistBCBS of MN
Upbeat–NEVER boring! BEST learning experience I've ever had!

Jacqueline Schmidt, Sales AssociateFarm Bureau Financial Services
My 5th year taking CE with Bryan Ventures….LOVE IT!

James Koca, Agency ManagerNecedah Insurance Agency
The time in class passed quickly–very useful information. Definitely one of the BEST CE courses I've attended!

Greg Travis, Independent AgentGreg Travis Insurance
I was very impressed with this course, and I am seldom impressed with any CE courses, much less very impressed. It is a subject area in which I am fairly knowledgeable, but I still learned quite a bit.

Amy C. Miller, LUTCF, Senior Branch ManagerLiberty Mutual Insurance
With ethics courses you never know what you're going to get (and so often they are BORING)….not the case for this one!