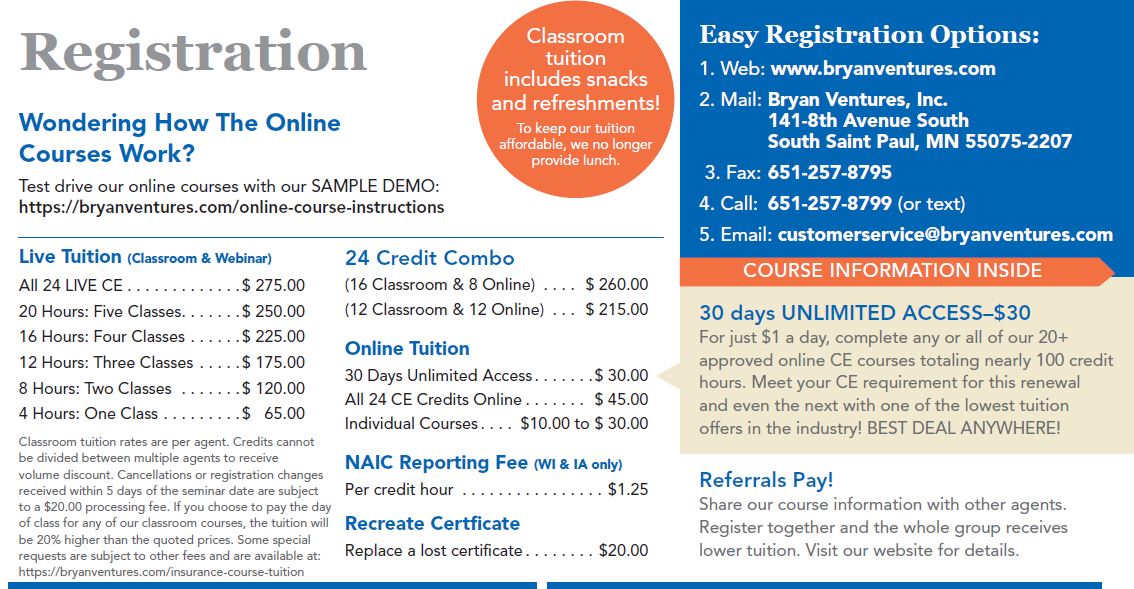 Register TODAY and find out why other agents say, "This is the BEST CE!"
Bryan Ventures' insurance course tuition rates are the BEST value in the insurance continuing education industry.

For just a dollar a day, agents can take any or all of our online courses. Complete your insurance CE for this renewal and even the next with our UNLIMITED ACCESS.
Our engaging and interactive live classes keep agents coming back and saying, "This is the BEST CE!" Classroom tuition includes snacks and refreshments.
Iowa & Wisconsin require a processing fee of $1 per credit hour to report earned CE credits. This amount is added automatically to your tuition if you reside in either of these states.
We provide certificates of completion following all classes, and it's available in your learning center for three years. Should you lose this certificate, we'll create a replacement.
Ready to get started with our LOW-COST insurance courses?
Bryan Ventures, Inc.
Est. 1999
MORE INFORMATION from our founder
Renée E. Bryan, Owner & Primary Instructor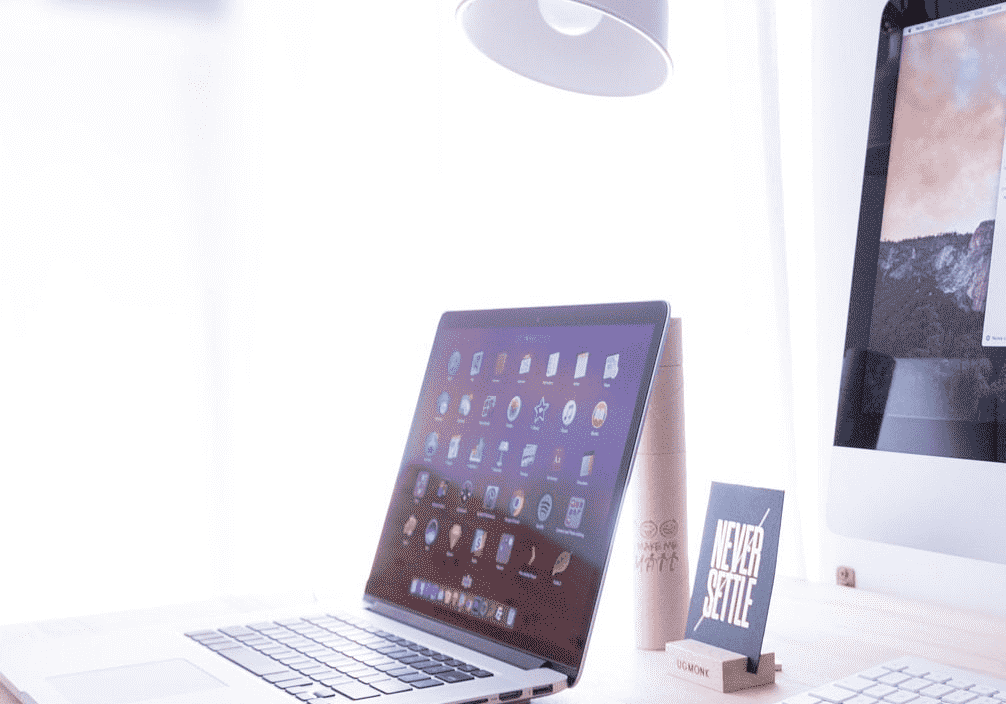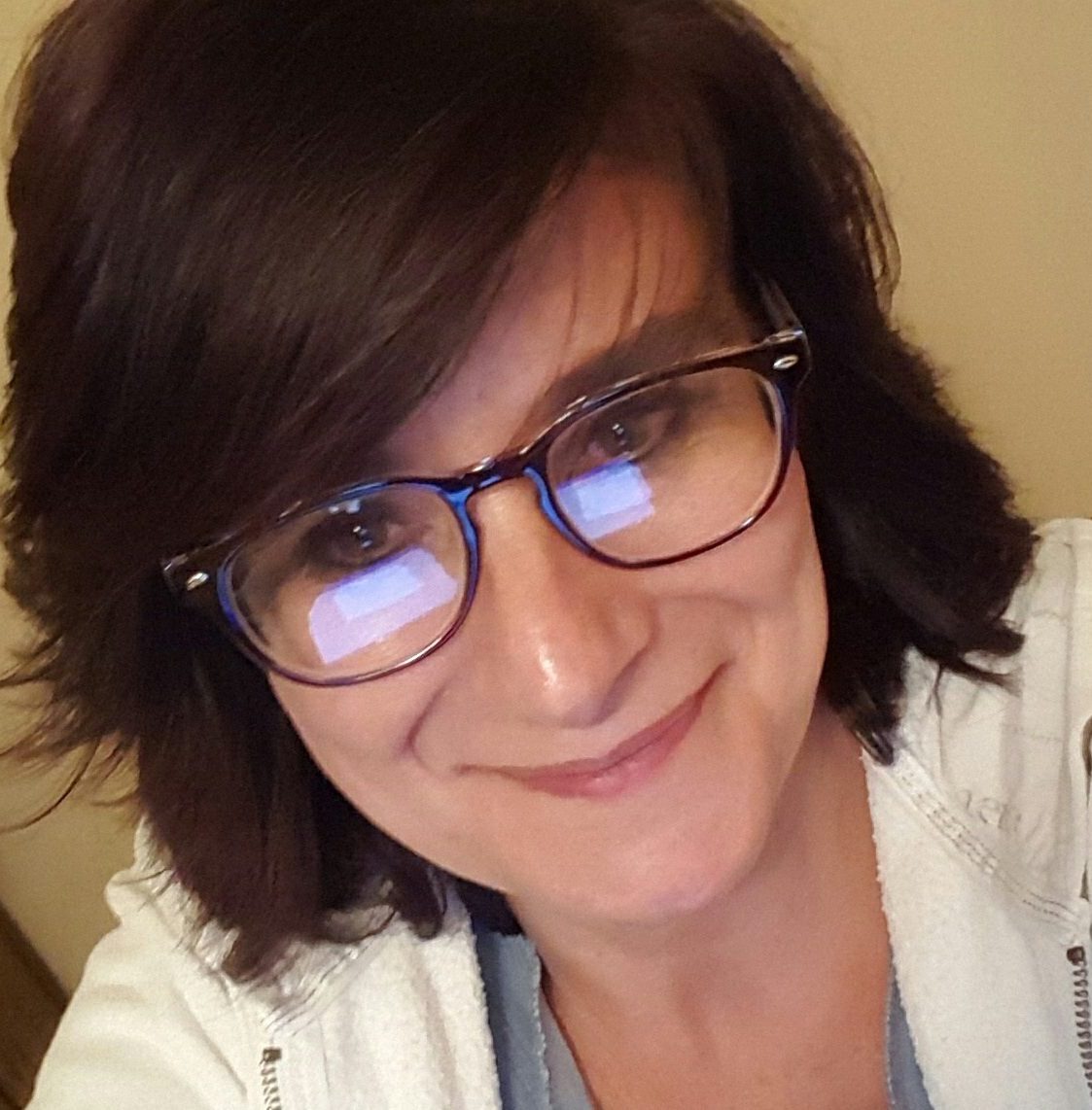 We will do all we can to help you coordinate your continuing education and gain the best value from your insurance course tuition.
Over the course of the last few decades, we have worked hard to offer the BEST service in the insurance continuing education industry, and agents that work with us know it. These insurance professionals say time and again that Bryan Ventures offers near perfect service. Emails and phone calls are generally responded to within minutes–even on the weekends and holidays. Requests are usually fulfilled within an hour of the request, and all of this is done by a very small staff.
Things here are so efficient, we can run one of the top insurance CE course companies in the upper-Midwest with just a few weekly work hours, but the secret is we need your help to ensure you receive the best value from your insurance course tuition. We've listed some suggestions below to help guide you through the process.
Here are a few things you can do to ensure you get the best value from your insurance course tuition
Most agents register seconds before starting an online course, or minutes before a webinar begins, and they have absolutely no problem with access to their insurance classes. For some agents, the process might take a little longer, so be sure to allow for extra time for your registration and insurance continuing education completion.
Everything you need to know is presented to you on the webpages, in the emails, and through the pop-ups. Be sure to take the time to read it. This save you lots of time and possible frustrations. We have presented this information to you so that you can navigate all of our classes independently and in your own time.
If you do have a special request, please keep in mind that although our preference is instantaneous service at all hours, that is simply not possible. Requests should be made timely and contain the information necessary to expedite the process. It is also important to understand that we cannot fulfill all requests. Some reasons are listed below.
Bryan Ventures offers several options to help you get the most from your insurance course tuition.
If you need to make a change or need some extra help, this is how things work. Please read the notes below the chart for extra insight.
Should you complete a transaction for classes you cannot use, you will receive a credit for courses. Refunds are subject to apply a $5.00 service charge for online courses and a $25.00 service charge for live classes plus a 5% processing fee. These fees are a reimbursement of the costs associated with the transaction.
If your purchase requires a COUPON CODE, be sure to use it at checkout. We reserve the right to charge the total tuition amount if this instruction is not followed.
If we need to reschedule or change any live insurance CE offering, we must provide adequate notice to our attendees. If a participant cancels or asks to reschedule their live courses within ten days of the class date, there may be restrictions on refunds or transference of paid tuition.
We are happy to reschedule you to another live course or we can retain a tuition credit for up to 12 months from purchase date. If you would like to change your registration or would like to transfer the insurance course tuition to another agent, there is a $25 RESCHEDULE fee.
If you would like to transfer the purchase of online insurance CE to another agent, there is a $25 TRANSFER fee. Please be sure the other agent has REGISTERED an account with Bryan Ventures and completed the INTRODUCTION in their LEARNING CENTER.
Our website is streamlined so agents can register and complete their insurance continuing education without assistance. If you would like us to help complete a registration on your behalf or walk you through the access instructions, we have a $40 ASSISTANCE fee.
Bryan Ventures offers low-cost insurance course tuition to residents of three midwest states
We're sorry, but we cannot offer insurance CE to residents of other states. However, these credits will apply for insurance continuing education credits for most other non-resident states.
Learn More about the Services at Bryan Ventures
Below are some of our most recent blog posts. There's more to Bryan Ventures behind the scenes.
<!—-><!—->
<!—->
<!—->
<!—->
<!—-><!—->
<!—->
<!—->
I am moving to Mexico! I've been in sunny Mazatlan for the last […]
<!—-><!—->
<!—->
<!—->
<!—->
<!—-><!—->
<!—->
<!—->
Some families are a little bit whacky. Well, maybe a bit more […]
<!—-><!—->
<!—->
<!—->
<!—->
<!—-><!—->
<!—->
<!—->
I'll tell you a few secrets about the service at Bryan Ventures. […]