We did it! As promised, we made arrangements with a tropical site to host our live classroom insurance continuing education classes. We worked with the tour groups department at Sun County Airlines and we found fabulous rates for air, transport and all-inclusive accommodations at the PLAYA MAZATLAN BEACH RESORT. Take a peek–the pictures on this page are directly from their location. Stunning, isn't it?
After having to wait for Sun Country to transition to their new owners, we finally have a contract in place with guaranteed travel rates available for sale on our DESTINATION CE page. We only have a certain number of packages available at these rates. To ensure availability, you must register now.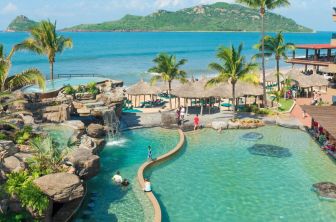 With our group purchasing power, we were able to negotiate deep discounts on the travel options, and there is NO requirement that you must be an insurance agent to join us. You can share this opportunity with family and friends as well. Below you'll find a few bullet points to address the common questions. Additional information is available on our DESTINATION CE page.
Our travel dates are SATURDAY, FEBRUARY 9 to SATURDAY, FEBRUARY 16, 2019.
The destination is Mazatlan, Mexico.
All-inclusive stay at PLAYA MAZATLAN BEACH RESORT.
We are offering packages with air, transport, and resort accommodations, or LAND ONLY.
These vacation packages are available for single or double travelers.
The standard rooms are Garden view. Upgrades to Ocean view for an additional fee.
Flights are out of Minneapolis/St. Paul.
We will instruct four insurance CE courses, 4-hours each on the weekday mornings while at the resort including required classes like ethics, annuities, and LTC Partnership.
Courses are approved for resident licensed agents in Minnesota, Wisconsin, and Iowa.

This is all explained in more detail at our DESTINATION CE page. I encourage you to take a look and then get yourself and whomever else might join you registered. If you have any questions, certainly email us.
Because of some of the feedback received during our initial survey stage, I think it's important to address some other concerns. As an example, one person commented, "This seems like a CE scam." I'm unsure what exactly they meant by this, but I think maybe this person thought we were going to charge these fees, all take off for Mexico and then never teach the classes. This could NOT be further from the truth. We will indeed teach four complete hours of insurance CE the four mornings we schedule and as a result, each participant will be compliant.
Maybe instead this person thought by flying to Mexico to get their CE that the class would somehow be invalid to your resident state. That is simply not the case. The insurance CE approved material can be instructed anywhere PROVIDED all of the other regulations are followed. This is why an Iowa, Wisconsin or Minnesota agent could cross the boarder and get their CE in a neighboring state…or Las Vegas…or Hawaii…or Mexico.
Another comment, "This is a false tax-deduction." Whoa–hold on! We have NOT said one word about deducting this trip off anyone's taxes. If that is something you are considering doing or are concerned about, please check with your tax-preparer. That's not our job and that is also NOT part of the benefits we've listed about this DESTINATION CE opportunity.
If you were concerned about some of those same points, I hope that helps. I also hope you take a look at the packages and the plans we've put together. We are super excited to partner with Sun Country so Bryan Ventures and the great insurance agents in the upper Midwest could have this opportunity to have CE classes in Mazatlan February 2019. WOO HOO!
Published July 2018
This blog highlights plans for live insurance CE in Mazatlán. Review the possible purchase options here.