As I write this, I am at Ruttger's Birchmont Lodge typing from their patio thinking this may be one of the last times I'll be blessed enough to work from this location. More and more agents are doing their insurance continuing education online, and that means fewer and fewer are attending our live classroom courses. Over the course of the last two days in Bemidji, we had just 12 agents attend classes, some even coming up to this location from the Twin Cities. In my very humble opinion, it is one of the BEST locations to attend our insurance CE courses, and I guess that is one of the main reasons this moment makes me sad. To be very honest, the entire trip has been bittersweet.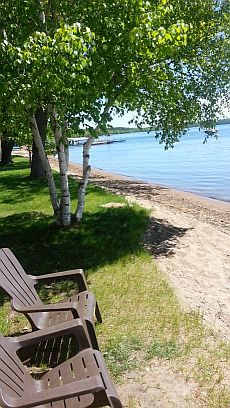 For well over a decade, we have hosted classes at this location. Hundreds of agents have passed through classes at this beautiful site and thinking back, just like these recent courses, we had so many good times and great laughs. One of the BEST jokes to share with other classes came from this very venue when the lawn in front of our meeting room became the resort's location for the morning yoga class. Since many on vacation are not the typical yoga participant, this gave a whole new meaning to "Downward Facing Dog" and a great round of fun for the class participants! Heck, it's too bad we couldn't just pick up and conduct class out there with them; and that says nothing of the loons (WOO HOO!) or the boats coming in and out of the dock area. I've threatened many times to host class on one of the boats. What better place to have class on a beautiful sunny day than a large pontoon or better yet, a party barge. Yes, our Bemidji location has been filled with many good times and fabulous (or funny) views.
I most certainly don't blame agents from moving out of the classroom to use the online courses. I personally would not take time out of the office when I could just peck through the classes on my computer while completing other work. It's just too convenient to pass up. Plus online is less expensive. Heck, we offer UNLIMITED ONLINE ACCESS for JUST $30–it's a steal! Because of all these reasons and more, many companies won't even allow their agents to attend live classroom courses, BUT the reality is if more agents don't start coming to the classes, we simply can't keep offering them.
Most of my time is spent with the classroom courses and yet most of our corporate profit is now generated from the online courses. This meeting, as an example, cost more than $1,000 to host, the gross revenue was $1,700. As you would imagine, taking three days out of the office to earn $700 isn't a very profitable decision. It was beautiful….and fun! I am truly blessed to even be able to work from this gorgeous location; however, if I were to invest that same time in our online insurance CE classes, the financial reward would be much greater.
Many of you have been attending our live classroom insurance CE courses for years now and thankfully we still have new people registering as well. Generally, one or two per location and just yesterday we had a woman who had never been to our insurance CE classes before say, "This was the BEST ethics course I have ever attended. So many others are so boring. This was interactive, enlightening, and just plain fun." Comments like these are one of many reasons we keep offering live classroom insurance CE and frankly, why I have loved my job for years. When I decided to create Bryan Ventures, I did so believing insurance CE did not have to be boring and based on all the glowing comments, we've met that objective.
However, a number of our loyal clientele are also retiring. This year has seen five agents say their final farewell to our classes. These agents worked hard for this long awaited transition in their career. Some even commented, like John Bassett of Hinckley, that his retirement will now be far more comfortable because of all the great financial information he learned in our very classes. That is a powerful acknowledgement that we've met another corporate objective to help you gain more personal wealth.
Of course, we can still offer these valuable ideas and concepts in our online insurance CE coursework, but in my opinion, the impact just isn't the same, and with the opportunity to do all insurance CE classes in a web-based format, the demographics of our classroom courses has changed. In many groups, I am one of the youngest people. Given I've been in the insurance industry since 1986 this means more and more agents will be retiring and if more agents don't come back to the classroom, class size will diminish further.
All of this is to say, if you like live classroom continuing education, register for one of our upcoming classes and encourage other agents in your office, agency network, and community to do the same. If we don't start filling seats, I might be pecking away at this laptop more often instead of joking around with you in class. Granted, I plan to do some of this writing sitting at beachfront areas just like this one in Bemidji and of course, I could see you around. Certainly, feel free to friend me directly on Facebook so we can keep in touch, but it truly won't be the same as all the laughs we have had and friends we have all made in the classes offered through Bryan Ventures, Inc. As a result, take a moment and look at the live classroom insurance CE schedule to see when you can attend in our upcoming sessions.
Published July 2014. This blog highlights how our LIVE IN-PERSON insurance CE courses are impacted by how the times are changing. Renee E. Bryan also publishes writing at her blog: WrongWayLizzie.Me.