I recently wrapped up our classes in Duluth, and one of the agents leaving, said, "If I never see you again, I want you to know I really enjoyed your classes." I asked her, "Are you retiring?" She replied, "No." So I asked, "Why wouldn't we see each other?" She said, "When you move to Mexico, you might not teach classes in Minnesota again."
That is correct–Bryan Ventures might not offer IN-PERSON LIVE INSURANCE CE classes in Minnesota and I might not reside in this lovely place I've called home, BUT that does NOT mean I won't see you again. We can do LIVE WEBINARS from anywhere in the world with an internet connection. We held many classes while I was in Mexico for the first three months of 2023. As long as you have an internet connection, we can meet in a web-based classroom for a LIVE WEBINAR. It's not exactly the same as in-person, but it comes awfully darn close.
Certainly, there have been some tears involved in these (possibly) final IN-PERSON LIVE INSURANCE CE classes. More than one of us, and this includes me, has shed a few tears during class or while on break. It is the end of an era–I have been traveling around the greatest parts of Minnesota since 1999. Thousands of agents have received a stamped certificate after the tutorial on proper stamper usage. We've had many good times in different political and economic environments.
AND–WE STILL WILL! Meet me in a LIVE WEBINAR and you'll see how much fun we can have in this new platform. To date, all the agents that have tried it, have found things that like about the LIVE WEBINARS better than IN-PERSON LIVE INSURANCE CE like no travel, getting to know each other better, being able to work on the breaks, fun polling questions, and the spacebar WOO HOO! It's the SAME EXACT CLASS only you don't have to drive anywhere.
Just check out the picture of the WOO HOO glasses. This snazzy fashion item is all part of the fun in a LIVE INSURANCE CONTINUING EDUCATION WEBINAR. If you have not yet, you really should check it out and you'll no longer be sad about this upcoming schedule change.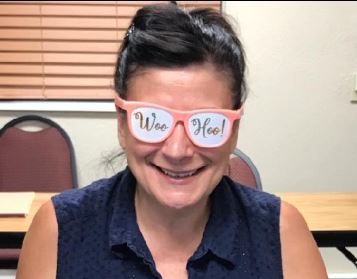 There are four that IN-PERSON LIVE INSURANCE CE remain: ALEXANDRIA in August, MANKATO in September, BRAINERD in October, and ST. CLOUD in November. If you want to be part of the possibly) final IN-PERSON LIVE INSURANCE CE classes get registered today, but remember, RENEE IS NOT GOING ANYWHERE. Bryan Ventures will continue to offer the BEST ONLINE and LIVE insurance CE to Minnesota, Iowa, and Wisconsin agents.
This blog highlights Renee's upcoming move to Mexico and the improved schedule for LIVE INSURANCE CE. Published August 2023. Renee E. Bryan also publishes writing on her blog: WrongWayLizzie.Me.